UPDATE: New scenery Mykonos Airport added.
Here are presented the most latest payware sceneries and add-ons available as a digital download for the Microsoft Flight Simulator from our partner Aerosoft shop. The newest products are at the top of the page, click on the product image to proceed to the shop. Flight Simulator Blog keeps this page up-to-date so you'll find the latest MSFS payware products here. Avoid buying add-ons from the in-sim Marketplace because Microsoft will take 30% share and Steam 36% share, meaning the add-on developer, who deservers more, gets much less from the in-sim Marketplace sales.
Mykonos Airport (IATA: JMK, ICAO: LGMK) is the international airport of the Greek island of Mykonos. It is located 4 kilometers southeast of the town of Mykonos at a 405 feet elevation. It serves flights to domestic and European metropolitan destinations due to the island being a popular leisure destination. The airport was first operated in 1971. It nowadays has a single runway designated 16-34 which is connected to the apron via two small taxiways, so a backtrack is needed for every departure and landing.
Redesigned in 2020 to hold seven (7) parking positions, all of them requiring a pushback procedure. A renovated Terminal and a brand-new fire station have been completed and delivered in May 2021. The airport is equipped with an NDB, a VOR, and has several instrument procedures (recently including RNAV). Mykonos island is called "the island of winds". Most days of the year strong gusting winds blow at the island and the airport vicinity. Those winds along with the short runway length (6.244ft / 1903m) and the hills around it make the landing a challenging procedure.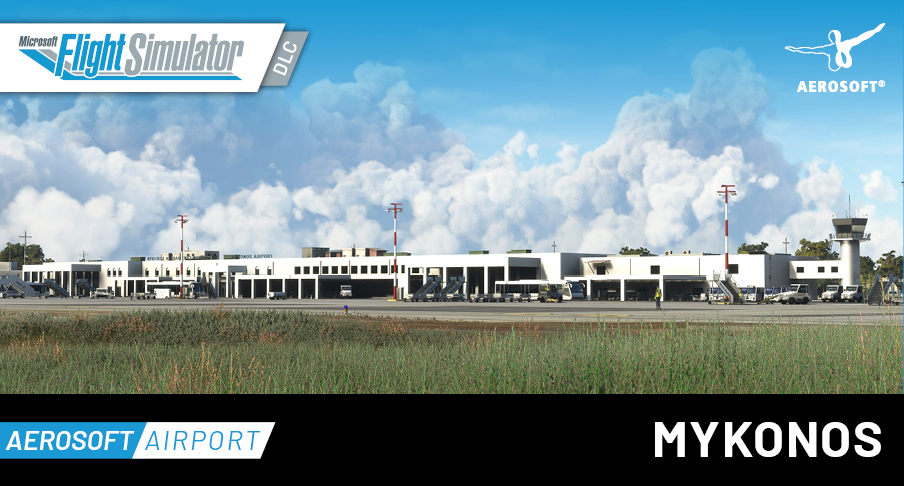 Previous Payware Products